Hey friend, guess what…it's another kosher connection link up thingy that we do every month. And would you believe it if I said it's the one year anniversary of the whole Kosher Connection Link ups? Of course you would believe me, it would be weird of me to lie like that…anyway, in celebration of the whole shebang, we're doing a blog swap and of course giving out prizes. I guess let's start with the prize details (because we know that's really why you're here)
Ready for a fun giveaway to celebrate one year of Kosher Connection? We are giving away two prizes from Emile Henry. A Bread Cloche valued at $130 and a 4.2 qt Dutch Oven valued at $170! Use the Rafflecopter below to win- you can enter up to 23 ways! Two winners will be chosen at random.
Contest Fine Print:
The contest winners will be contacted via email. They will have 48 hours to respond before other winners are chosen. This contest is open to United States residents over the age of 18
Now to the blog swap. So we were all assigned another persons blog, and given the task to recreate something they made. I was assigned the difficult task to try and recreate something from the fabulous website by Hindy G – Confident Cook, Hesitant Baker, which if you're reading this blog and you haven't been over there, you're doing yourself a disservice.
Anyway, you might not know me that well, but if you've read the blog more than zero times, you can probably guess how good I am at making decisions. Well needless to say, trying to decide what to make from the myriads of awesome stuff on Hindy's website was an attempt in futility . Just look at all the awesome stuff on her recipe index. Add to this confusion, the fact that it's nearly as hot as the surface of the sun in my apartment, and I pretty much had to hone in on something that wouldn't fry my brain any more, so the oven and stove were off limits. At first I wanted to make her homemade KitKat bars, but my doctor asked me not to. So I had to settle for some sort of frozen concoction. After perusing the few recipes listed, I knew is had to be Vietnamese Iced coffee popsicles. Why, you ask? Well mainly because, I like coffee, and it didn't require too much work.
There are different ways of getting your caffeine fix with iced coffee, and the Vietnamese version really is just adding sweetened condensed milk to the coffee instead of milk and sweetener. When it comes to making the actual coffee, Hindy used some espresso, but I decided to go with my cold brewed coffee, because I love me some cold brewed coffee.
I ground up some fresh beans, and placed in my french press, poured in water, allowed it to seep overnight, and filtered out the grind.
Mixed the coffee with some sweetened condensed milk to taste (you will probably need less than half of the can)
and poured it into the ice pop molds
I placed them in the oven at 350 for 100 hours, and then barbecued the ice pops over indirect …just making sure you're paying attention…I placed them in the freezer, d'doy, and when frozen I ate them.
All right, so now's the part where you want to know how they were right? Well, here's the thing, this was possibly a last ditch attempt for me to like ice pops. There's something about eating an ice pop…or let me rephrase that, because you never really eat an ice pop, in fact you never really do anything to an ice pop…you lick it? And then invariably you try to eat it…it's just, in my humblest of opinions, not really the best vehicle for jamming food down my gullet. Now don't get me wrong, I ate it, and enjoyed it, but I just don't understand it…Anyone else out there in internet land understand where I'm coming from? Now one possibility where I went wrong was with the amount of sugar. Since the final result was mainly iced coffee, and a little condensed milk, it was for all intents and purposes, water, which means the final pop, was more like an ice cube than an "ice pop." I didn't really measure how much condensed milk I added, but I don't think I could have added more, so if I make these again, I would probably add some simple syrup to boost up the sugar content, and make more of a slushier ice concoction. Just a thought.
Ok first thing first – don't forget to head on over to all of the other amazing websites to see what actual talented people do by clicking on the link right below.
And as for the giveaway that we had mentioned above, click on this link to enter, a Rafflecopter giveaway…however if that doesn't work, just  head on over to http://www.joyofkosher.com, and enter there.
Vietnamese Ice Coffee Pops
adapted from Confident Cook, Hesitant Baker
Ingredients:
1 batch of Iced coffee (you can follow my instructions on how to make cold brewed, or you can just make a large batch of coffee)
1 can sweetened condensed milk
Directions:
Once you have your cold coffee, it's just a matter of pouring in enough sweetened condensed milk to taste (I used maybe less than half of the can). (Now as a side point, the way I measured how much coffee I would need, I have 6 ice pop molds, and measured how much liquid one held, multiplied that by 6, and then subtracted a little to compensate for the milk.)
Pop it in the freezer over night, and then enjoy.
I'm usually not a recipe person. I don't often see a specific recipe and say I need to try that. I'm more a technique guy. When I read through food magazines its usually for ideas and not specific recipes, knowhatimean? It's crazy because I remember my mother listening to Arthur Schwartz on the radio every Friday afternoon, and I hated it, mainly because I never understood why she would be listening if most of the stuff they're talking about doesn't apply to us anyway! Now I understand, it's about taking away ideas. Where am I going with this you ask? Well recently I saw this recipe for pasta…pretty boring I know, except the technique was pretty cool and different. Just dump your pasta, vegetables and water in a pot and let it cook away. I was intrigued, and surprised when it actually worked.
So, you know how usually I go on and on about random boring science-y stuff? Well not today. No, today I bring you just a pretty neat way to cook a really quick dinner.
Being the 9 days, I feel like we're all scrambling to try and find ways to somehow manage without meat. I for one, don't think it's such a big deal, I enjoy eating dairy, but for those scrambling, this is a really easy recipe, that can be put together in literally 10 minutes.
So anyway, I saw this in Living magazine, and was really intrigued. I'm not sure how much more random banter I can spew so I can pretend this will be longer than it actually is, because really all you have to do is throw some linguine in a pan, with some water, and some other vegetables, bring it to a boil, and let it cook until it's done. I know that sounds hard, but it's not. I guess the only difficult part is knowing how much water to put in per amount of pasta. The recipe pretty much calls for 1 and 1/4 cups of water for every 3 ounces of pasta, which worked great. But I've made it since then, and didn't use exact measurements, and it also worked out great.
One thing to note, as the pasta cooks, it will look like there's too much water; Don't worry, keep going. As the water cooks, the starches from the pasta will also thicken the water, and in the end it will all work out.
For this recipe, I used shallots, tomatoes, garlic, and some frozen basil. But I've also used mushrooms, tomatoes, and basil…really any quick cooking vegetable will work.
After it was done a generous helping of freshly grated parmesan never hurt anyone.
So bottom line – I know it's tough trying to mourn the destruction of the Bais Hamikdosh by trying to come up with dairy meals for like 1 whole week! I know…but maybe this can help.
One pot linguine with tomato, shallots, and basil
Adapted from this recipe
Note: I scaled the recipe down to serve just one person, but I'll include recipe to feed 4 from the Living website. But feel free to scale up and down as needed
Ingredients:
12 ounces Linguine (or any pasta for that matter…I think your best bet is a long thing type, like spaghetti, fettucini, etc..)
12 ounces cherry/grape tomatoes, halved  (I used regular plum tomatoes)
1-2 medium shallots , thinly sliced (original recipe calls for regular onions, but I like the taste of shallots a little better in quick cooking applications, but as always feel free to do whatever the heck you want!)
4 cloves garlic, thinly sliced
1/2 teaspoon red-pepper flakes
2 sprigs basil, plus torn leaves for garnish (I didn't have fresh basil, so I used frozen…don't tell anyone)
2 tablespoons extra-virgin olive oil, plus more for serving
2 tsp Salt
Freshly ground pepper
4 1/2 cups water
Freshly grated Parmesan cheese, for serving (Please don't use the pre-grated crap)
Directions:
Place pasta, tomatoes, shallots, garlic, red pepper flakes, basil, olive oil, salt and pepper, and water into a skillet (If the noodles don't fit, then just break them until they do) over high heat until it boils, and continue to cook for about another 9 minutes, until the water has nearly evaporated.
Garnish with freshly grated parmesan
Another month, and another Kosher Connection Link-Up thingy. This month's theme – Miniatures, which is great, because I made these here eclairs a little while back, and it was totally on purpose that they came out way smaller than I was expecting. Well then, let's get going shall we?
Of course we shall, what a ridiculous question.
Anywhoo, so eclairs, they're pretty much awesome, correct? So why aren't we making it more often? Well I don't know, I guess most people assume that they're pretty difficult to make, well I'm here to tell you not to assume (you probably think I'm going to say not to assume because it makes an ass out of you and me right? Wrong! You never assume because it makes an ass out of Uma Thurman, and that's never a good thing). An eclair is simply baked pate a choux, filled with pastry cream, and topped with chocolate, and I intend to tackle each one starting…now.
Pate a choux, which translates into cabbage paste, luckily stuck around even after those damn Frenchies gave it that ridiculous name. Choux paste in it's most simplistic form is melted butter with some water mixed together with flour, and then mixed together with eggs. It's really a thing of beauty; It relies on the simple conversion of water to steam to deliver its lift, and what ends up happening is you end up with one giant bubble stuck inside the final product, which is perfect for filling.
In order to make choux paste. First butter is melted in some water, and when ready, flour is added, and cooked for a little to remove any flour-y taste.
The resulting batter is left to cool, and then eggs are added and mixed in, which will take a little time to fully incorporate,  and the resulting dough will go from the consistency of a paste to more like a thick pancake batter.
The batter can then be "cooked" in a few different ways, and one of those ways is to bake it for eclairs/profiteroles. (frying would be another great way which would get you beignets, but that's another post). I based the recipe off of Michael Ruhlman's ratio for pate a choux, which means you need a scale (I'm telling you, if there's one piece of equipment you really should have, it's a scale, but you know me, I'm not preachy). The ratio he uses (in his book Ratio, which is a great book by the way) is: 2 parts water: 1 part butter : 1 part flour : 2 parts eggs. For me the eggs are usually the rate limiting step, and I base how big/small the recipe will be on the eggs. Since one large egg weighs 50 grams, if you use 1 large egg, you end up with: 50grams water, and 25 grams butter and flour (besides salt, and other flavorings like sugar and vanilla if you want).
For the pastry cream filing, I based it on another ratio in Ruhlman's book, the ratio for Creme anglais. Creme anglais is a loose custard (whereby custard is defined by – a mixture of eggs and a liquid, which can either be free standing [eg – quiches, cheesecakes…] or not [ex – creme anglais, which includes French style ice creams, creme brulee, pastry cream]). For the non free standing types, there are different ways to thicken the resulting cream, and for our pastry cream (or Crème Pâtisserie if you want to be fancy) it gets thickened by a starch (cornstarch being the first choice since it's pure starch, but flour, potato, tapioca/cassava would also work). The ratio he uses for creme anglais is: 4 parts Milk/cream: 1 part yolk : 1 part sugar.
The general idea for making any type of custard usually is to mix the eggs and sugar together, to start dissolving the sugar, and to lighten the eggs with thorough whipping.
Then the milk is heated up, along with your vanilla bean.
In our case, I used some ground vanilla bean, which I got so graciously from Bakto Flavors via Kosher Scoop because I'm one of the taste testers…more on that in the future.
Once the milk is at the desired temperature, it's slowly added to the eggs a little at a time to temper the eggs (temper means to slowly bring the temperature of one thing that's colder to the temperature of another thing that's warmer, but done slowly and gently to avoid overcooking), once tempered, the remaining milk/cream is added to the eggs, and then it's all poured back into the pot to cook a little more, and if needed strained out. In our case, to incorporate the starch, you first have to mix the cornstarch with some cold milk until it makes a slurry, and then you add the slurry to the heating up milk, and it will then start to thicken (starch only thickens at a specific temperature, which is also why you don't want to dump it all in dry, because it will begin to thicken the second it hits the hot milk, and form clumps). Set aside to allow to cool.
To cook the eclairs, preheat an oven to 450, transfer the batter to a piping bag (what you really need is a tip coupler, which can turn any cut ziploc bag into a real piping bag), and pipe onto a baking sheet lined with parchment paper, although you might want to pipe them a little bigger than I did. (You can push down any irregularities, by dabbing at it with a wet finger)
Bake at 450 for 10 minutes, and then lower to 350 for the last 10-20 minutes, until nicely browned. Take out of the oven, and pierce with tip of paring knife to allow steam to vent out. When cooled enough to handle, use the star tip to pipe the pastry cream inside the eclairs (this will be hard if you don't have the tips). Set aside on cooling rack.
To make the chocolate topping, melt a whole bunch of chocolate in a double boiler with a little bit of some sort of fat (butter, vegetable oil, whatever), and dip eclairs into the chocolate. Allow the chocolate tool cool and it will slightly harden, but not too much because of the addition of the fat. (I tried making a ganache by mixing equel parts chocolate and hot milk, but it didn't work as I had planned, but if I were to make it now, I would do it this way)
Comments: So I made a few mistake – From the beginning in order of appearance:
The tip I have for my tip coupler was too small, resulting in these "mini" eclairs (which I guess wasn't that bad of a result, but not what I was trying to do).
I forgot to poke a knife in the eclairs as they were cooling, so they deflated (whomp, whomp)
The pastry cream was way too thick. I think maybe because when I made the pastry cream, I forgot about the starch, so I had to heat it back up, and add the cornstarch slurry, but I think I added to much starch, plus I've never used ground vanilla bean, and I wonder if it also thickened the sauce more than anticipating.
Because I forgot the deflate the eclairs, it made them soggy, so it was very hard to pipe the already thick pastry cream into it..so that didn't really go over so great.
I thought I'd be better off making a chocolate ganache…I'm not really sure why, but I made the ganache, that was too thin, and had to make it thicker, and whatever it didn't work out either.
And there ya have it – eclairs. So it might seem like it's a lot, with fancy words like: scale, piping bag, temper…oooh that sounds like it's too much…too much of a patchke…well, it's not, and you should do it. But do it better than I did.
And to the three people who read this much and haven't been referred here from another blog (Hey mom, dad, and fan favorite Phoenix Fresser), don't' forget to Check out all the other participants in this months Kosher Link-up, by clicking on the funny frog thin-a-ma-bob under here.
Eclairs
adapted from Ratio by Ruhlman
Ingredients:
For the pate a choux:
25 grams butter
50 grams water
25 grams flour
1 large egg
pinch of salt
1 teaspoon vanilla extract
For the Pastry cream
I used the ratio 4 parts milk/cream: 1 part egg yolk : 1 part sugar, and used 1 yolk, but I don't remember how much everything else came out…yet another reason to get a scale.
Vanilla (if it's a vanilla bean, you want to cut and scrape the pods into the milk as it's heating up)
2 teaspoons corn starch
2 teaspoons milk
For the Chocolate sauce:
3-4 grams bittersweet chocolate chips (I know I'm old, because I find the sweetened ones to generally be way too sweet, and I like the Whole Foods brand which is like 70% cacao, which if I was 15, I would think tastes like bitter terrible-ness, but now I love it)
1-2 teaspoon fat (butter, oil, whatever)
Directions:
To make the pate a choux:
place butter and water in medium sized pot (to be able to accommodate the flour also), and heat over medium heat to melt butter.
Once butter is melted, add all of the flour in at once, and with a wooden spoon, mix together until paste forms. Continue mixing and cooking for another 3-4 minutes to cook out the floury taste. Take off heat and allow to cool, 5-7 minutes.
When cooled, add eggs (one at a time, if using more), and start to mix vigorously. At first it will look like the egg isn't adding into the dough, but continue beating, and eventually it will all come together…trust me).
Transfer batter to piping bag fittest with widest tube, and pipe large eclair shaped ovals (I guess it's an oval…)
Bake in a preheated 450 degree oven for 10 minutes, then lower the heat to 350, and cook until beginning to brown (about 10-20 minutes).
When done, place on wire rack to cool, and when cool enough to handle, pierce eclairs on the side with a small knife, to allow steam to escape
For the custard:
Mix together yolk and sugar vigorously until the color of the yolks lighten (we're after incorporation of air (which lightens the color) and for the sugar to start dissolving into the yolk)
Heat milk or cream over medium heat (I hate heating up milk, because if you turn around for one second it will boil over, and make a big mess…true story…like every time I heat up milk), and if using a vanilla bean, cut lengthwise, and scrape the pods from the inside, and heat up until just about boiling…If using vanilla extract, add it to the egg/sugar mixture…I used ground vanilla bean from Bakto, which I got via Kosher Scoop to test out, and it's really cool…more on that to come…eventually)
Slowly pour a little of the heated up milk to the egg yolk mixture, and whisk constantly, to heat up the eggs  ever so slightly (ie – temper), and once warm enough, dump the rest in, whisking constantly. When fully mixed, add it back to the pan, over medium-low heat, to heat up some more.
While milk egg mixture is heating up, mix together the 2 teaspoons cornstarch and 2 teaspoons milk, until no clumps are left, and add to the milk-egg mixture, and continue cooking until custard has thickened (when you drag the spatula on the floor of the pan, it should leave somewhat of a trail…does that make sense? meaning – it should take a little bit of time for the mixture to fill in the void the spatula created)
Strain through fine mesh strainer, and set aside.
For the chocolate:
Place chocolate chips on double boiler (that is: you take a medium sized pot, fill it a tiny bit with water (like an inch or so), and heat up to a simmer. Place smaller metal bowl over top of it) and heat up chocolate gently, with the fat in it, constantly mixing with a spatula, and stop just as everything is melted, because it will continue to cook, and you don't want to burn the chocolate)
To assemble -
With star tip on piping bag, pipe custard into eclairs slowly, while back out, and stop when custard starts oozing out.
Dip each eclair into chocolate mixture, and set aside to cool/harden
Eat every last one of them with out shame knowing full well it's 100% fat free if you make it yourself
Guess what folks? It's Chanukka, and you know what that means?
Fried stuff with cheese.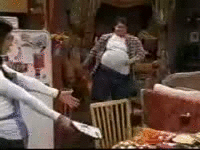 (Friends anyone?)
This post was supposed to be part of the Chanukka Blogger party going on, but as usual I didn't have my act together to submit my post on time. If you want to get in on the party, head on over to overtimecook.com, and there should be a list of links of all the people participating. Stay tuned for some real chanukka posting coming soon to this here blog (hint – it rhymes with shmufganiyot…I can't say anymore)
So yeah, everyone remembers the fried part of that, but people tend to forget that eating dairy is also a tradition (because Yehudis served dairy and wine to the opposing general, and when it caused him to fall asleep she killed him, saving the town). In fact some people think that the original latke, isn't potato,  but rather a cheese latke. So being Chanukka, I thought to myself – which one of the many posts that I have archived away, can I use for Chanukka, and somehow make a decent enough excuse as to why it somehow applies to Chanukka. Know what I mean?
Anyway, I made these a few weeks ago, and while they're not really the purdiest things, they were pretty freaking good, ifidosaysomyself. Gnocchi is normally cooked potatoes, flour, eggs, which get boiled up, and then tossed in whatever sauce you serve it with. Along with the flour, it relies on the starch in the potatoes to make a solid structure, but you can use any vegetable with a fair amount of starch. In this case we used both potato and this variety of winter squash (I think it's delicata) that I picked up at this farm's stand near me.
To cook them, I placed them both in a closed ziploc bag with a little bit of water, and microwaved on high until done (like 10 minutes or so).
Traditionally, you take the cooked potato, and pass it through a ricer, but since I don't own one, a neat trick is to pass it through a sieve, and that way you get the texture we want for gnocchi. I then combined it with flour, eggs, and salt. Whenever I make gnocchi, I don't really measure out the flour and eggs, I just add it until it's the right consistency I'm after. Remember that last time we made gnocchi? You don't? Well refresh that memory of yours by clicking here.
All right, so on to the next part, the browned butter and sage.
Sage and browned butter are a very classical pairing, and if you've never tried it, try it, and you'll understand. They are just made for each other (kind of like lime and coconut, youknowwhatimsaying?). Now, it's not just butter, it's browned butter. Butter is made up of milk solids and water, and when you melt butter, and it starts to sizzle? Well that's the water evaporating out. Once the sizzling is over, the milk solids have time to develop flavor, and by browning, that's exactly what they're doing. So you take some butter, and heat it up until it sizzles, and then I like to lower the heat so you don't wind up burning it, and let it brown away. Once browned, I add the chopped sage, let it cook just a little, and then add the cooked gnocchi to the sautee pan.
Top the whole thing with some parmesan (need I say freshly grated?), and toasted pine nuts, and thank me after.
Ok, so I know what you're thinking. What does this whole shooting match have to do with Chanukka? Well it's kind of fried, and it's got dairy in it, so bingo-bango, you got yourself a new Chanukka tradition.