Category Archives: Vegetable
Hey friend, so you know I like you right? Well that's why I am nice enough to let you in on the secret to perfect beer battered onion rings. No more will you be forced to eat onion rings which have no coating. We're talking crisp, yet airy onion rings. That's something you want isn't it? Of course it is. If you tell me you don't like onion rings, I don't know if we could be friends.
That being said, I do have one caveat. You see apparently someone over at Joy Of Kosher thought I was pretty cool, and they actually asked me to do this guest post over on their blog, so if you want the ultimate secret to perfect Beer Battered Onion Rings, you're just going to have to click on any of these shiny words. Or this one. You can also try this word…they all work. While you're over there you can also vote for me as one of the Best Kosher Food Blogs, but you're going to have to scroll all the way to the bottom, because I currently have a grand total of 2 votes (thanks mom and dad!)!
Anyway, go over there and make those onion rings, because they're really awesome, but while you're at it, and you have all that oil ready for some frying, why not make a blooming onion??? Genius, right? The batter is different than the one for the beer battered ones, and really the only thing that makes a blooming onion, is the preparation.
Take your onion, oh and we're using the sweet Vidalia types, and peel the skin off while keeping the onion whole. Then you're going to want to cut it into wedges without going all the way through the onion. Kind of like cutting a pizza, I guess…somehow…So start by making a cut from pole to pole, but don't go all the way through. Then make a cut perpendicular to that one, again avoiding cutting all the way through, and keep on going until you have wedges.
Place the onion in some ice water, and gently start teasing apart the "leaves."
Mix together 2 eggs, and set aside.
Also mix together 1 cup of flour, with whatever spices you see fit (I used, salt, pepper, garlic, onion, and cayenne…but use whatever you want, you can't really go wrong). Pour enough hot water into the flour mixture that a thickish batter forms (like a thin pancake batter).
Dip the onion into the eggs, and then the flour mixture, and fry until golden-brown, about 15 minutes.
If we're making blooming onions, you got to have a dipping sauce right? So I threw together mayo (about 1/3 cup), a splash of cider vinegar, sriracha, paprika, and mustard, and mixed it all together.
Now the only issue I had with the blooming onion is it's a pain in the butt to handle, and trying to keep all the leaves together, and all that…so I thought to myself, why not screw the whole blooming onion thing, but make those leaves anyway. So for batch #2, I did the same exact thing, but this time, I cut all the way through. That way, every last part of the onion was coated with the coating, and it fried up so much nicer. Plus, it was easier to handle post-frying, and also easier to dip. So unless you're after the esthetics of a blooming onion, I say, go for the second way, it'll be much easier for everyone.
Another note – if you haven't read the beer battered onion ring post (and seriously, why haven't you yet?…oh you're not sure where the actual post is?? Well why didn't you say so…click here), the onions were soaked in a salt-water type of soak (we used beer in that recipe, but any salt water solution will work) to pull out the moisture from the onions, which if you use sweet onions, will have a lot of moisture so it will really benefit from the soak, which I didn't do, and the final product did end up a little mushier than I wanted, and I think now's a good time to end this extremely long run on sentence, no?
I'd love to hear what you're planning on making for your superbowl party.
Blooming Onion
Ingredients:
2 large Vidalia onions
3 cups oil (or enough to cover the onion)
2 eggs
1 cup flour
Salt
Pepper
Garlic powder
Onion powder
Cayenne Pepper
Hot water
1/3 cup mayonnaise
2 tablespoons sriracha (or any type of hot sauce)
1 teaspoon cider vinegar
Hot paprika
Mustard powder
Directions:
In a heavy bottom pot, heat up the oil over high heat (if using a thermometer, you want it to register about 350 before frying…if you don't have a thermometer, you can either use a popcorn kernel which pops around 350, or you can use a wooden chopstick, and it should bubble around the chopstick when the oil is hot enough)
Peel the outer layer of skin on the onion while keeping the onion whole. Then to make the blooming onion, cut through the onion, but not all the way through, and make wedges by cutting perpendicular to it, and continue going until you have a bunch of wedges as illustrated above. Alternatively, you can make the blooming onion by just making the "leaves," by cutting all the way through.

If you want, and I didn't do this, but I recommend it, salt the onions after you cut them, and let them sit for 20-30 minutes to allow the moisture to come out of the onions

Mix together the eggs and set aside
Mix together the flour, salt, pepper, garlic, onion powder, and cayenne, and add enough hot water to form a thin-ish batter
Dunk the onion in the egg, and then the flour mixture, and when the oil's ready fry the onion until golden brown, about 13-15 minutes
While the onion's frying, make the dipping sauce – Combine the mayo, sriracha, vinegar, paprika and mustard and mix to combine
Guess what folks? It's Chanukka, and you know what that means?
Fried stuff with cheese.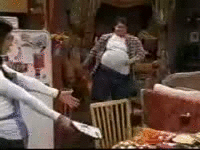 (Friends anyone?)
This post was supposed to be part of the Chanukka Blogger party going on, but as usual I didn't have my act together to submit my post on time. If you want to get in on the party, head on over to overtimecook.com, and there should be a list of links of all the people participating. Stay tuned for some real chanukka posting coming soon to this here blog (hint – it rhymes with shmufganiyot…I can't say anymore)
So yeah, everyone remembers the fried part of that, but people tend to forget that eating dairy is also a tradition (because Yehudis served dairy and wine to the opposing general, and when it caused him to fall asleep she killed him, saving the town). In fact some people think that the original latke, isn't potato,  but rather a cheese latke. So being Chanukka, I thought to myself – which one of the many posts that I have archived away, can I use for Chanukka, and somehow make a decent enough excuse as to why it somehow applies to Chanukka. Know what I mean?
Anyway, I made these a few weeks ago, and while they're not really the purdiest things, they were pretty freaking good, ifidosaysomyself. Gnocchi is normally cooked potatoes, flour, eggs, which get boiled up, and then tossed in whatever sauce you serve it with. Along with the flour, it relies on the starch in the potatoes to make a solid structure, but you can use any vegetable with a fair amount of starch. In this case we used both potato and this variety of winter squash (I think it's delicata) that I picked up at this farm's stand near me.
To cook them, I placed them both in a closed ziploc bag with a little bit of water, and microwaved on high until done (like 10 minutes or so).
Traditionally, you take the cooked potato, and pass it through a ricer, but since I don't own one, a neat trick is to pass it through a sieve, and that way you get the texture we want for gnocchi. I then combined it with flour, eggs, and salt. Whenever I make gnocchi, I don't really measure out the flour and eggs, I just add it until it's the right consistency I'm after. Remember that last time we made gnocchi? You don't? Well refresh that memory of yours by clicking here.
All right, so on to the next part, the browned butter and sage.
Sage and browned butter are a very classical pairing, and if you've never tried it, try it, and you'll understand. They are just made for each other (kind of like lime and coconut, youknowwhatimsaying?). Now, it's not just butter, it's browned butter. Butter is made up of milk solids and water, and when you melt butter, and it starts to sizzle? Well that's the water evaporating out. Once the sizzling is over, the milk solids have time to develop flavor, and by browning, that's exactly what they're doing. So you take some butter, and heat it up until it sizzles, and then I like to lower the heat so you don't wind up burning it, and let it brown away. Once browned, I add the chopped sage, let it cook just a little, and then add the cooked gnocchi to the sautee pan.
Top the whole thing with some parmesan (need I say freshly grated?), and toasted pine nuts, and thank me after.
Ok, so I know what you're thinking. What does this whole shooting match have to do with Chanukka? Well it's kind of fried, and it's got dairy in it, so bingo-bango, you got yourself a new Chanukka tradition.
So I'll go out on a limb here, and let you all know, that I'm pretty much a pro at potato kugel. I know that's a pretty brash statement right there, but I've been making potato kugel since I was about 13 years old. It was really the first step into my decent of food madness. However, it's been 2 plus years on this here blog, and not one mention of potato kugel? No recipe? Nothing!? Well for some reason, my potato kugel is very hard to give over. I never had a recipe, and kind of am at the point where I make the kugel by feel. So why the change of heart? Why am I all of a sudden writing up a post on potato kugel? Well to be honest, this month's kosher LinkUp theme is root vegetables, and I've been super busy lately, and really haven't had the time to take pictures and write up a post, so I figured, I'd be making the potato kugel anyway for Shabbos, so like everything else in my life, I'd be able to kill two birds with one stone, and half ass it, awesome! I can already hear you in the background rolling your eyes, but fear not, I'll be back with some quality posts once I can get my life in order…so in like 15 years give or take.
One of the nice things about not being consistent when making kugel, is that every week is a surprise as to how it will come out. Will it be too salty? Too garlicky? (which as my Hungarian compadres will know, is not really a thing) Too peppery? You get the gist. And another thing is, over the years I've tried different things. Different ingredients, different techniques, etc, but one thing that hasn't changed – I grate the potatoes by hand. Yeah, call me old fashioned, but I can tell the difference between a potato kugel made by hand, and one made by machine. Now that's not to say if it's made by machine it won't be good, but here at casa del Fogel we like our potato kugel to be just slightly chunky, not like a puree, and there's no way you can get that with a machine.
All right, so let's start with some potatoes shall we? I like to peel them and to prevent them from browning I keep them submerged in water. If I have my act together (which if you haven't caught on yet, is never) I would actually put it in the fridge over night, because that's how Bobby (ie – my grandmother) did it, and it also makes sense, a colder potato takes longer to brown, and while a browned potato will still make a good potato kugel, it's still something I try to avoid.
Next thing up is the grater. Of course you can't just use a normal box grater because that would just be too normal, you have to use one of these types of graters, which you can only buy from an old women on the side of the road somewhere in rural Hungary. This is the grater I've used every time (well almost, more on that in a bit) for the 16 plus years I've been making it.
So grate your potatoes (which by the way, would be a great idiom…I'm not sure for what, but I can totally imagine someone saying: "..and by the way, don't forget to grate your potatoes"…it has a nice ring to it…but I digress) and you really want to work fast here (so it doesn't brown), which can be a little tricky if it's your first attempt at using one of those graters.
Look at that consistency, it's not too mushy, not too chunky…just right
To be honest, up until recently I used garlic and onion powder, because that's how Bobby does it, but the good food maniac (I'm trying to think of another word other than foodie, which I hate) I am, just couldn't let it continue. So I grate an onion, and mince some fresh garlic in there, and it's really stepped up the kugel in the past few months. However, another thing the onion might do is since it's acidic, it prevents the potatoes from browning also, but that's just an educated guess on my part.
Now for the piece de resistance. Before I start grating, I pre-heat the oven, and put the pan in there with some oil. I let it heat up, and when I'm done with all the grating, and adding my salt and pepper, I take the scalding hot oil out of the oven, and pour it over the spices (I make sure the pepper and garlic are on top), which allows them to bloom, and it sizzles, so that's pretty awesome. Once that's all mixed, I add my eggs. It's hard to tell you how many eggs because most of the time I'm not sure myself. I would tell you 1 egg per pound of potato, but that's not a hard fast rule. Eggs will help bind everything, and keep it more solid, but it will also add to the browning of the crust (as will the oil).
Anyway, I cook the potato kugel at 350 degrees until it's ready, about 1.5-2 hours, depending on size, and type of pan you use, but you'll know it's ready when your house smells like Shabbos, and there's a nice brown crust on the top. My favorite type of pan for the kugel is a glazed ceramic souffle pan, which gives a lot of interior, and makes a nice crust (because of the heat retention capabilities of the ceramic), but it is a little big for just the wife and I.
That's pretty much all I've got for now. Oh, one more thing – I did mention that I would mention something about using the grater every time. Well to be perfectly honest, one acceptable alternative in our family is the Braun Food processor, using the "e" blade. I've used it if I was making a whole lot of potato kugels (like the 6 pans that I made for Daniella's kiddush). But to be really honest, it's good, but it's just not the same.
Now for all of you not convinced, I openly invite/challenge you to come by any Shabbos and taste my kugel, and tell me that you can't taste the difference. Now that's brash right there.
As like last time – this is all part of the Kosher Connection LinkUp, with the theme of Root vegetables, and since I know you want to check out what other slightly more normal people have to say about that topic, and since you probably want something just a little more exciting than plain ole' potato kugel, click on that little frog mentschey (man, I cannot tell you how long I've wanted to use the word mentschey in a post…normally mentschey is strictly used for lego men, but we've extended it to this guy…it's a pretty great day)…so go ahead click on it.
Potato Kugel
We'll assume you're making kugel for a standar d Shabbos meal, for like 6-8 people, but you can obviously scale the recipe up/down for your needs
Ingredients:
Potatoes (2.5 pounds), peeled
3-4 tablespoons oil
1 small-medium onion
2 tablespoons salt (total guess on that one)
2-3 cloves of garlic, minced
2 teaspoons black pepper (also a guess, and for the love of all that's sacred, use freshly grated black pepper, it's really not that hard to find, and unless you like the taste of saw dust, it really makes a difference)
3 eggs
Directions:
Preheat oven to 350, and when oven's hot, add your oil to your pan, and heat up in the oven
Peel potatoes, and place in water (if you want to do this the night before, place potatoes in fridge, in water)
Grate potatoes and onions. Add salt, minced garlic, and pepper (making sure the pepper and garlic are on top)
Being careful not to burn yourself (my lawyers told me I had to say that), pour oil over top of the potato mixture, let it sizzle, and mix it through
Once cooled, add your eggs, and mix until incorporated
Add to pan (if the pan has good heat retention [like a ceramic one, and not like an aluminum one] you should start to hear the kugel sizzle as it hits the pan).
Bake for about 1.5-2 hours, or until it's nice and brown and delicious (well maybe wait a little to decide for yourself how delicious it is, because it's probably going to be hot)
Peetser or pizza, however you pronounce it, you gotta admit a well made slice of pizza is pretty freaking amazing. If you're not sure how much I love my pizza, this is the 6th post devoted to the stuff (first there was the one about the dough, and how to make pizza margherita at home [which is it's own style of pizza]…then there was the potato-pesto pizza, which if you've never tried, do so now, there was also my pizzogi [pizza+pierogi] experiment, and then there was the dessert pizza from way back, when this here semi-amateur blog was in it's infancy [sorry, the photos on that one got deleted, so you'll just have to use your imagination, oh and there's no recipe, so you'll really have to use your imagination], and to make this sentance the longest run-on sentence ever, while we're talking about how old this blog is [we were?] my 2 year blogiversary came and went, without any recognition (July 6th), so yeah, we're officially hitting the big time baby!…wow that was a long sentence…can we keep going?? Hell yeah!…Um, so how have you been? Awesome, great job…let's get going shall we?)..anyway, I kinda lost my train of thought there, but bottom line – I like my pizza. One thing I never really discussed is how I make pizza at home (not the shortcut method from the margherita pizza post).
Making pizza at home right, is for the most part impossible, well at least in my oven, which is only good for thoroughly heating up my apartment to about the surface temperature of the sun. Come to think of it, I should try cooking my pizza outside of the oven in my apartment, but that would be madness! Anyway, to properly cook pizza, you need an oven that can get up to at least 500 degrees, and hold it there (that last part being the challenging part), and the hotter the better. Some of the real deal pizza ovens crank it up to 800-1000 degrees. Those types of ovens (usually utilize wood or charcoal to achieve that temperature) will crisp up your pizza without drying it out too much.
The next thing to discuss with cooking pizza (or anything for that matter) is transfer of heat. Did you ever put your hand in water that's 212 degrees (boiling), did you notice how you burnt your hand? Yeah, that kind of sucks. Now try putting your hand in an oven that's 350 degrees. It's hot, but you can keep it there for second, and not burn yourself. Now go ahead and touch the metal grates in the oven. Now I'm not sure why you keep on listening to me, but that burnt pretty bad right? So what gives? Well the oven uses air to transfer the heat from the heating element to penetrate your food, and as it so happens, air is a pretty crappy heat transferor, as opposed to water or metal, which are much better at transferring heat. Now if you want to crisp something up real quick, like the bottom of a pizza, we really have to consider proper heat transferring options.
There are a few tricks people use, but the one most people know about is a pizza stone.
A pizza stone is basically a non-glazed ceramic tile (and if you want to save yourself some dough, you can go to home depot and get a few non-glazed ceramic tiles [making sure they're non-glazed], but since the people who work there aren't that bright, I haven't had much luck with it, but you can try), and basically it gets really hot, and transfers it heat nicely to the bottom of the dough. The thing about the stone is it's density; it's like a big reservoir of heat, but you need to fill that reservoir, which is why in order for the stone to work, you need to pre-heat the oven, and keep the stone in there for at least 30 minutes. I know that sounds like a lot, but you can't just put pizza on a cold stone, and expect it to do it's magic. In my pre-foodie days I tried to make pizza at home on a cold stone, and lemme tell you, the only magic it does, is magically make every centimeter of the pizza dough adhere as tightly as possible to the stone…not a fun endeavor.
The other two tricks I know are the skillet-broiler trick, which I explained in the margherita post. Or if you want you can make pizza on a sheet pan, that you place on the bottom of the oven. I've done this when I'm too lazy to lug out my pizza stone (which is in three pieces, because I broke it..but it still works), but I don't think this has the same results as a pizza stone, but it's definitely better than putting the pizza straight in.
Allrighty, so now that we have our pizza stone mightily pre-heating in the oven, how do we get the darn thing in there without burning myself again!? Well in comes the pizza peel. Which is pretty much an overgrown spatula. One word of caution, you want to make sure the peel is well floured (or you can use corn meal for a more authentic feel) to make sure the pizza slides off.
When people hear that I use a pizza peel, they think I'm nuts. For some reason, pizza peel is where most people will draw the line in their descent into becoming a foodie (side point – I hate that term). A pizza stone – that's somewhat normal, a pizza peel? Well you're just insane. It's kind of like the difference between having a pepper grinder, and grinding your other spices also. You have a pepper grinder? Ok, that's normal. You grind your own spices?? Lemme guess you grind your own meat also…YOU DO?! Seriously, what is wrong with you??
Call me crazy…I call it a commitment to making good food, right, but…I'm currently digressing right? Allright, let's get back to pizza making, and if anyone wants to discuss how I feel about food, feel free to leave a comment, or email me, or whatever, I'm really always free to talk food (it's part of my "craziness").
Ok, so now that we've covered my pizza making antics, I got to be honest with you, the reason I dragged you down here today, isn't really to share a recipe (um, couldn't you have told me that like 40 minutes ago before I wasted my time reading this?!? Thanks a heap), but more to brag. You see, a while back, I submitted a recipe to The Kosher Scene for their Shavuos recipe contest, and I won a cheese basket from The Cheese Guy! Pretty amazing right? (Yup, shavuos…and yes, I'm fully aware it's August…but to be fair, I did only got the basket in the beginning of the month)
As great as mozzarella is, I truly do love me some monteray jack cheese. It melts so nicely, and it really tastes great, and it doesn't sound like a fancy cheese that people will think you're all snobby about. If you haven't tried it, it's readily available kosher, and please, please buy a block of cheese, and grate it yourself. Remember how I'm a crazy food guy, and I do all these weird things in the kitchen? Well yeah, I grate my cheese. Why? Because it's really better. You see, pre-shredded cheese is coated with some form of starch, which prevents clumping, but because it's a starch, it will gobble up all that moisture, and leaves your cheese, well less moist. I'm not trying to tell you you're going to go to foodie hell if you don't grate your own cheese, and yeah even I use pre-shredded sometimes (hey I'm not always superman in the kitchen, and I get lazy too), but if you want to do it right, try grating your own cheese, and tell me it doesn't make a difference.
To make the actual pizza, I roasted the pepper on the stove top, by literally burning it over the flame, on all sides, and then covering it with plastic (you can just stick it in a ziploc bag), and after 10-15 minutes, the skin peels off real easy, and you have yourself roasted red peppers. To cut the pepper (fresh or roasted), lop off the top and bottom, and make a slice down, and open it up like a book. Remove the seeds and ribs by running your knife parallel to the board, and slice into battons.
For the olives.
Now I know you're going to laugh at me, but I own an olive pitter…
well let me re-phrase, my brother in law, the Phoenix Fresser owns an olive/cherry pitter, which he left at my place, so I have an olive pitter on hand, to pit these kalamata olives. To quote Alton Brown, olive/cherry pitters are "unitaskers," and we generally frown on unitaskers, unless it's a fire extinguisher, but I had one, so I used it…there are a few DIY ways to pit olives if you're so inclined.
The dough I used was at 67% hydration (67% of the flour was water by weight), brushed the dough with olive oil, then topped with tomato sauce (homemade obviously, but because of my severe bout of verbal diarrhea today [my morning patients all cancelled on me today], I just don't have the time to digress…we can further the discussion on facebook or the comments if you so desire), then topped with the chopped olives and peppers, and then with the monteray jack cheese. Popped it into my blazing quasi-inferno of an oven, with the pizza peel, and let it cook away.
As you can see, it didn't brown and char as much as I would have liked it to, but it was in there for about 15 minutes, and was starting to dry out, so I had to take it out. It was still good, but not as crispy as I would have liked
Here's a shot of the bottom of the pizza, otherwise known as the "under carriage," and you can see there are some spots of char, but again, I would have liked some more.
Ok so that's pretty much it.
Thanks again to The Kosher Scene, and to The Cheese Guy for the awesome cheeses.
Until next time